I've never (digitally) sculpted/modeled a full, human character before (not counting mushroom-people and warrior-creatures). When I started I must've assumed this would be easier? "It's stylized" after all.
But (as you know if you've done it) there are loads of little technicalities with 3D: sure, you can approach it like clay, have fun and pile stuff on willy-nilly, but good luck using that sculpt! Even for a still illustration, try exporting a mess of millions of intersecting polys to an external renderer: it's not a good time.
So, I like being methodical and efficient. I HATE doing something only to find several hours later that "Wow I really should not have done that 100 steps ago and now I have a mess to fix."
I've been collecting refs and videos by ZBrush artists who know their stuff and learning from their techniques. Thought I'd share my PureRef file with you. (And I'll try to keep it updated.)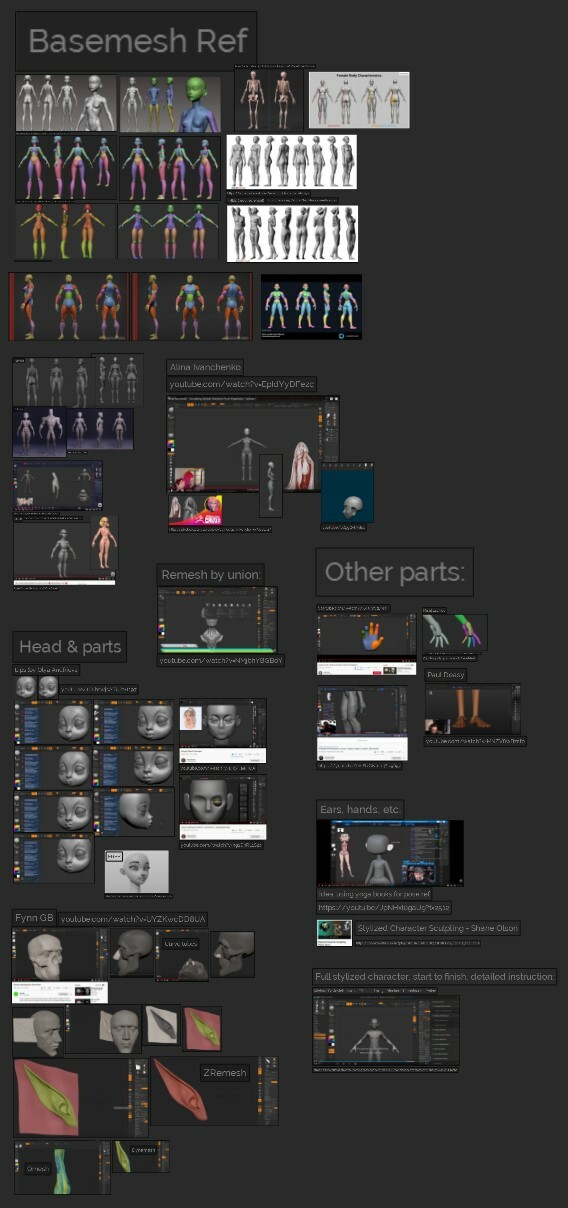 Disclaimers:
This is a compilation of links for easy reference. Most of the content is free and nothing in this file "unlocks" or shows content in any form that's not already freely accessible online. Includes some images of purchasable models; not an Ad or endorsement.
—
Art by: Follygon (Ben De Angelis), Danny Mac, Alina Ivanchenko (FoxFromBox), Olya Anufrieva, Michael Pavlovich, Fynn GB, Shane Olson, Ashley A. Adams (A Cubed), & others.
—
P.S. if you have a good resource to add, leave a comment!
See also: Collections > Tutorials